IVG 2400 Disposable Vape
£12.99
IVG 2400 Disposable Vape contains 4 pods, each containing up to 600 puffs.
Available in many flavours in a 20mg nicotine strength.
Scroll down for more details, including specs and flavour descriptions.
BUY 2 OR MORE AND PAY 11.99 EACH
Description
IVG 2400 Disposable Vape
The IVG 2400 Disposable Vape Bars have been carefully designed with convenience in mind. Let's take a closer look at the great features that make them a standout option:
Equipped with a powerful 1500mAh battery With up to 2400 puffs per device, users can enjoy prolonged sessions without worrying about recharging or replacing batteries.
Revolving Pod System: The IVG 2400 Bars utilize a unique revolving pod system that integrates four pods into a single device. When one pod is empty, simply rotate the device to access a fresh pod filled with your favorite flavor. This ingenious design eliminates the hassle of carrying multiple devices or constantly refilling pods.
Draw-Activated Mechanism: Say goodbye to complicated buttons and settings. The IVG 2400 Bars feature a draw-activated mechanism, allowing you to simply inhale from the mouthpiece to activate the device. This amazing design gives you a seamless and user friendly vaping experience.
Equipped with four mesh coils, Giving you a smooth vapor production. The mesh coil technology enhances flavour delivery, providing a satisfying and flavourful vape every time.
With child safety in mind, the 2400 puff disposable can be locked by simply twisting the device 1 or 2 turns to a different position (away from the active pod).
IVG 2400 Disposable Vape Flavours:
Berry Lemonade Ice – A mix of fruity berries with a splash of sour lemonade, finished with a cool menthol breeze.
Blue Edition 4 in 1 – Blue Raspberry Ice | Blueberry Fusion | Ice Pop | Professor Blue. The IVG 2400 4 in 1's contain 4 different flavours
Blue Raspberry Ice – Fresh, tangy blueberries paired with sweet raspberries and an icy menthol finish.
Blue Razz Cherry – Sweet blue raspberry paired with a sour cherry bite for a deliciously sweet mix.
Fizzy Cherry – Sweet and sour cherries with an added fizzy kick for an exciting, sweet combination.
Grape Ice – Deliciously sweet and sour grapes paired with a cooling, menthol exhale.
Ice Pop – Nostalgic mixed of bubble gum and strawberry ice pop that's sweet, refreshing and cool on the exhale.
Lemon & Lime – An incredible citrus mix that's fruity and sweet with a touch of sourness.
Pink Edition 4 in 1 – Strawberry Ice | Strawberry Watermelon | Strawberry Mint Menthol Mojito | Watermelon Ice
Purple Edition 4 in 1 – Blue Razz Cherry | Fizzy Cherry | Grape Ice | Plum Blue Razz
Strawberry Watermelon – Mouth-watering strawberries and watermelon combined for the perfect burst of juiciness.
Yellow Edition 4 in 1 – Fresh Mint Menthol Mojito | Lemon and Lime | Pineapple Ice | Tropical Fruits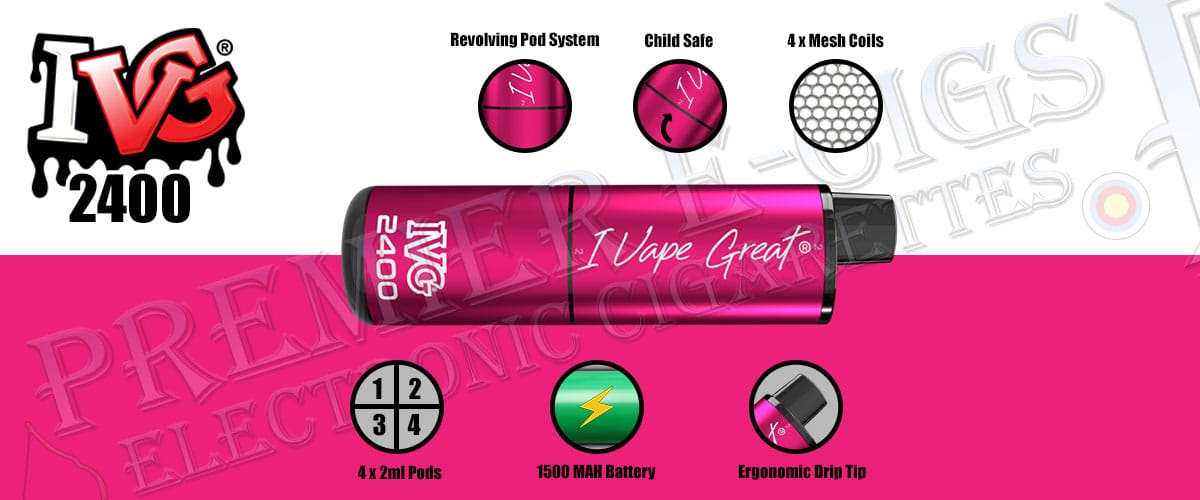 The IVG 2400 collections contain 4 different flavours
For all wholesale enquiries Please go to Premier E Cigs Wholesale and setup an account, You may be asked to provide proof of trade to purchase products.
Additional information
| | |
| --- | --- |
| Flavour | Berry Lemonade Ice, Blue Collection, Blue Raspberry Ice, Blue Razz Cherry, Fizzy Cherry, Grape Ice, Ice Pop, Lemon & Lime, Pink Collection, Purple Collection, Strawberry Watermelon, Yellow Collection |