blu 2.0 Vape Device
£9.99
In stock
Description
blu 2.0 Vape Device
The Blu 2.0 vape device is the latest pod system that builds upon the colossal success of its predecessor the Myblu pod kit.
With more battery power, larger e-liquid pods and next generation charging technology, the Blu 2.0 device is perfect for vapers who value convenience and quality. On average you can enjoy up to 25% more puffs per pod and less disruption when it's time to recharge; thanks to USB-C your device will charge faster than ever.
Thanks to the new ceramic coil held within every pod. Ceramic-encased coils reduce spit-back and noisy activation, providing a smoother, richer, and more consistent experience.
blu 2.0 vape device Key Features
Device Type: Pod System
Charging: USB-C
Battery: 400mAh (internal)
Magnetic pod system
Premium satin and gloss finish
Power tap LED battery indicator
Weight: 20g
Length: 112mm
blu 2.0 Pods sold separately
Not compatible with original myblu liquidpods
Have you heard that blu 2.0 is replacing myblu?
About the blu 2.0 device
The device has a sleek new design complete with magnetic pod lock, making it easy to hold and use.
The blu 2.0 battery lasts all day, giving you over 250 puffs per fully charged battery.
Want to quickly check the battery level? Simply tap the device three times and check the colour of the light: blue is high to medium battery, yellow is medium to low, and red is very low (meaning it's time to charge!).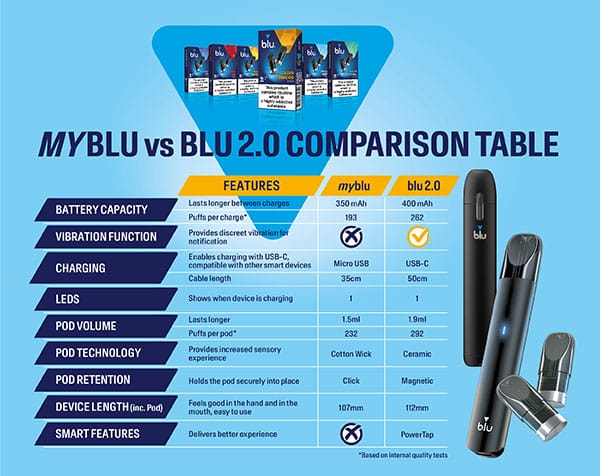 About the blu 2.0 flavours
Discover six new smooth, rich flavours – Golden Tobacco, Polar Menthol, Berry Mix, Blueberry Ice, Fresh Mango and Fresh Mint – in 9mg and 18mg strengths.
Blu 2.0 flavours are made with nic salts for a more satisfying vape.  Offering nearly 300 puffs per pod, blu 2.0 liquidpods are long-lasting, meaning you need to swap them over less often. And when it is time to change, the devices magnetic pod lock makes it extra-easy.
Looking for blu wholesale? (Click Here)