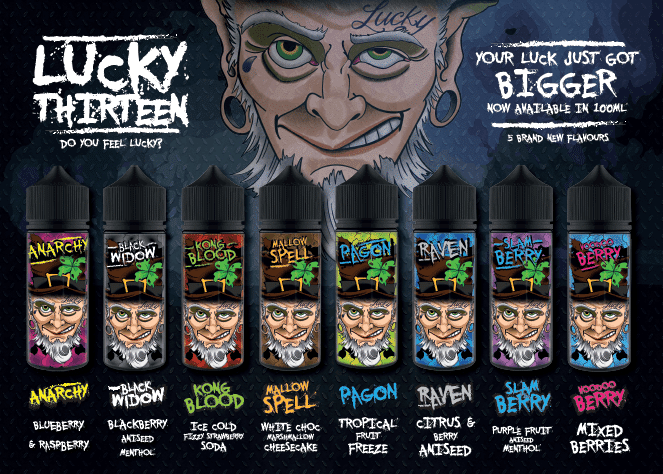 This range of short fill e-liquids from Lucky Thirteen have an amazing flavour profile. We believe that Lucky Thirteen are going to take the vape world by storm as these juices is hotter than a hot summer's day.
Each 120ml bottle is mixed to a ratio of 70% VG+, and contains 100ml of liquid, leaving room to add two nicotine shots (free) if needed ? Or upgrade to Dr Salt, salt nicotine shots for an extra £1.
Lucky Thirteen Flavours:
Anarchy – Blueberry and Raspberry.
Black Widow – Blackberry, Aniseed and Menthol.
Kong Blood – Ice Cold Fizzy Strawberry Soda.
Mallow Spell – White Chocolate Marshmallow Cheesecake.
Pagon – Tropical Fruit Freeze.
Raven – Citrus and Berry Aniseed.
Slamberry – Purple Fruit, Aniseed and Menthol
Voodoo Berry – Mixed Berries.