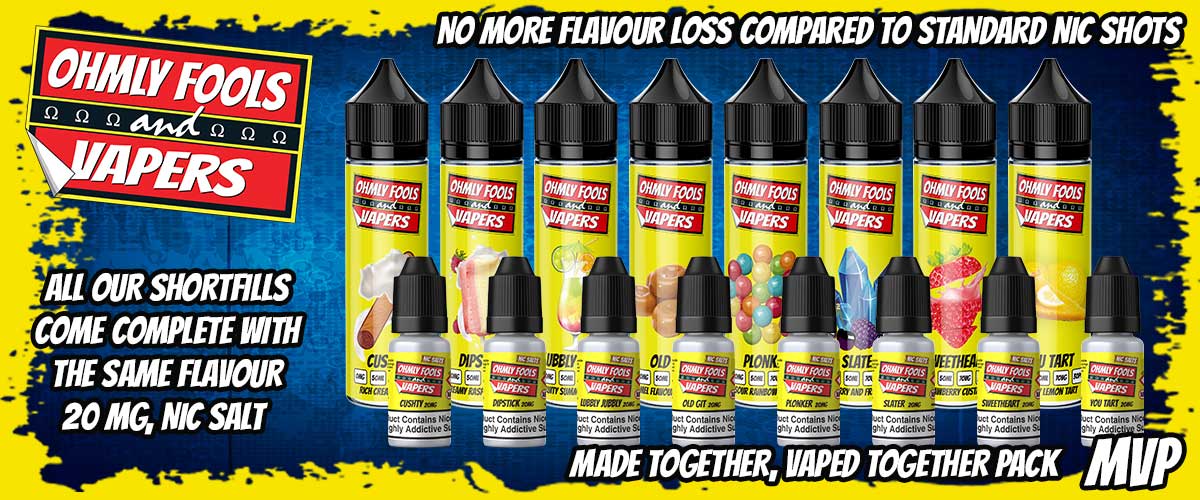 Ohmly Fools and Vapers
Lubbly Jubble took 1st place for best drink in show at the vaper expo
Lubbly Jubbly made 3rd place for best drink at the vapouround awards
Cushty placed 1st for the best tobacco at the london vape show
It was an understatement to say we was extremely proud of our efforts to secure recognition in the vaping community.
Flavours:
CUSHTY 

– Rich and creamy with low notes of cigar and a great tasting custard background. (AWARD WINNER)

DIPSTICK 

– A very sweet milk and raspberry flavour lollipop.

LUBBLY JUBBLY

– Lime, strawberry and orange, a very zesty and sweet fruity flavour. (AWARD WINNER)

YOU TART 

– This lemon tart is a more even version of the great tarts that are already in the vape community, we would say a bit less biscuit.
Old Git – A Caramel Flavoured Hard Candy.

Plonker

– A Sour Rainbow Candy Combo'.

Sweetheart

– A Rich and Sweet Strawberry Custard Desert.

Slater

– A Dark Berry and Cooling Menthol.
SHORTFILL VERSION INCLUDES 10ML 20MG SALT EQUIVALENT FOR USE AS NIC SHOT (NO LOSS OF FLAVOUR).
if you are looking for wholesale please go to premier e cigs wholesale