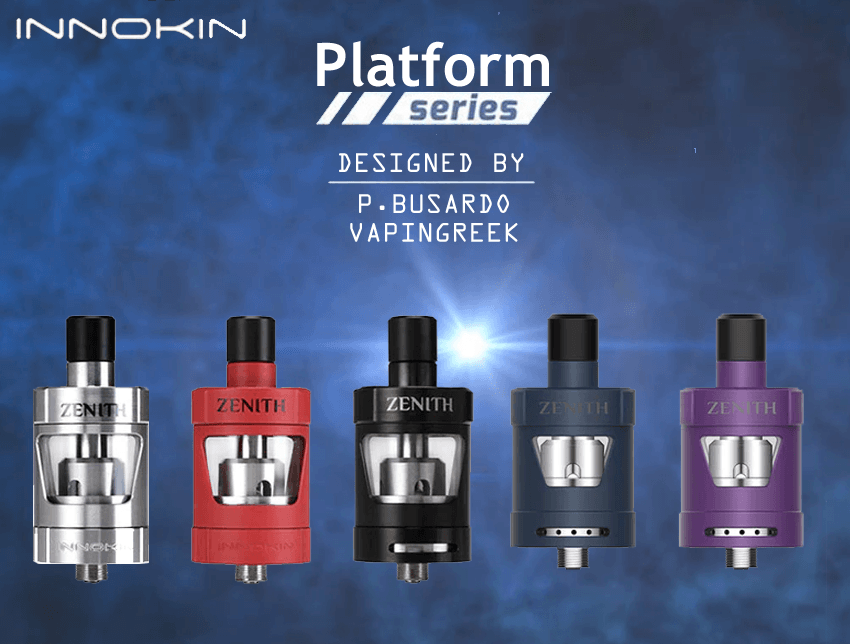 The Innokin Zenith MTL tank is the latest release from the Platform series and is designed by vape famous duo Phil Busardo and Dimitri 'The Vaping Greek'.
It comes in a variety of colours and both 2ml TPD and 4ml rest of the world capacity – the latter obviously being slightly larger.
Innokin are known for some exceptional MTL tanks indeed the T20 Prism is one of my all time favourite daily go to tanks.
The Zenith Tank is predominantly meant as a mouth to lung tank (MTL) tank especially with the pre-installed 1.6ohm coil and the airflow turned way down, however the 0.8ohm coil with the airflow open – whilst not a true lung hit – is more of a restricted direct lung vape (DL).
Additionally, the Zenith has an easy top fill design – simply twist the top cap to reveal a large juice port opening. There's an adjustable airflow on one side of the tank with 5 holes each of them reducing in size – open and close with arrows is written on the ring – I'm guessing in case you are confused as to how to er open and close!
Innokin Zenith Specs:
Capacity: 2ml (EU) or 4ml (Outside EU)
Size: 24.7×48.9mm (2ml tank), 24.7×53.2mm (4ml tank)
Clean hand coil replacement
Twist top fill
6ohm coil head
8ohm coil head
Inside the Box:
1x Innokoin Zenith Atomizer
1x 1.6 ohm coil
1x Spare 0.8ohm KAL Coil
1x Spare Drip Tip
4x Replacement Mouthpiece O-Rings
1x Quick Start Guide